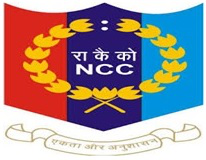 Important link for NCC Cadets
National Cadet Corps (NCC)
Army Wing (SD/SW)
Establishment: 1966
NCC Moto : "Unity and Discipline"
Oath
"I do hereby solemnly promise that I will serve my motherland most truly and loyally and that, I will abide by the rules and regulations of the National Cadet Crops. Further under the command and control of my commanding officer I will participate in every camp most sincerely and wholeheartedly".
Pledge
"We the cadet of the national cadet corps, do solemnly pledge that we shall always uphold the unity of India. We resolve to be disciplined and responsible citizen of our nation. We shall undertake positive community service in the spirit of selflessness and concern for our fellow beings."
Aims of NCC
To Develop Character, Comradeship, Discipline, Leadership, Secular Outlook, Spirit of Adventure, and Ideals of Selfless Service amongst the Youth of the Country.
To Create a Human Resource of Organized, Trained and Motivated Youth, To Provide Leadership in all Walks of life and be Always Available for the Service of the Nation.
To Provide a Suitable Environment to Motivate the Youth to Take Up a Career in the Armed Forces.
NCC Boys Unit
The college has Two well equipped NCC Units (Army Wing) for boys and girls. College has strength of 107 Junior and Senior College boys, sanctioned by 20-Mah. Bn. NCC Nagpur and a strength of 50 Junior and Senior college girls sanctioned by 3-Mah. Girls Bn. NCC, Nagpur. The college has prepared Firing Range. NCC cadets are entitled for incentive marks up to maximum 10 for each student. Two years training with 75% attendance and one camp is necessary for "B" certificate examination. Three years training with 75% attendance and Two Camps are necessary for "C" certificate examination.
NCC Girls Unit
The national cadets corps girls unit (Army wing) of our college is recognized and affiliated to 3 MAH. Girls BN. NCC Nagpur since 2007. At present the allowed strength is 100 cadets and Lt. Kuljeet kaur Gill is working as a commissioned Associate NCC officer since 2012.
Staff
National Cadet Corps (NCC)
Social Contribution
NCC organized blood donation camp and most of the NCC cadet donate blood.
Worked as a volunteer in social festival like Ganesh Utsav, Durgadevi Utsav etc. for mob controlling.
Help to Police department as they require.
NCC Cadet took part in various social and academic activities like tree plantation, Gram Swachata Abhiyan, Yoga Day Program, Aids Awareness Program etc.
Cadet Recruited in Arm Forces from NCC Boys Unit
| | | | | |
| --- | --- | --- | --- | --- |
| S. N. | Name | Year | Place | Designation |
| 1 | Swapnil Gajbhiye | 2018-19 | Banglore | Recruited as a Soldier |
| 2 | Ramu Mate | 2018-19 | Nashik | Recruited as a Soldier |
| 3 | Suraj Sontakke | 2018-19 | Hyderabad | Recruited as a Soldier |
| 4 | Mahesh Amborkar | 2018-19 | Hyderabad | Recruited as a Soldier |
Cadet Recruited in Arm Forces from NCC Girls Unit
| | | |
| --- | --- | --- |
| S. N. | Name | Year |
| 1 | Ku. Bharti A. Kore | CISF (Central Industrial Security Force) Joining Date 08/05/2017, CISF Regional training Center Arrokkonam Chennai. |
Departmental Link
https://sites.google.com/site/nccgirlsunitsnhcbramhapuri/
Nukkad natak on swatchhta hi seva performed by NCC girls cadets of N.H.College,Bramhapuri
Republic day parade at N.H.College Bramhapuri
NCC cadets of N.H.College Bramhapuri performed by street play on voting awwarness at Bramhapur