Green Initiative
Download Links
Best Practices
Title of the Practice: Reading Room till Midnight for Aspiring Students
1. Goal
This practice is initiated by the library under the aegis of College and aims at providing better educational ambience and facility not only for college students but from the students of the nearby villages who are preparing for competitive and university exams. It also inspires them for the healthy competition for getting selected in various competitive exams. Development of reading culture among the students is one of the aims of Midnight Study Room.
2. Context
As college is situated in a rural area, students especially hostellers and tenants of small sized single room do not have comfortable seating facilities and study atmosphere to prepare for regular as well as competitive exams. Hence this practice is started to provide them better seating arrangement and other facilities of magazines, books, newspapers and internet facility. To fulfill their needs and optimal utilization, the facility of reading room, the reading room is even kept open till midnight for them.
3. The Practice
After the notice from library about the starting of Midnight Study Room needy students regularly use this facility from 6 pm to 12.00 pm. Facility is provided to all the students irrespective of their last exam score. 12 students from college hostel, 03 outside students preparing for regular and competitive exams visit the library on daily basis. Annual fee of 1500/- and half yearly that of 750/- are charged for such outside students. Facility of around 10 books are made available to the students for 15 days who prepare for the annual examination on their B.T. card. Similarly students appearing for various competitive exams are provided books for various exams including general knowledge, aptitude test, environment, Indian Constitution, Geography, descriptive algebra, autobiography etc. To further the cause, a readers' club entitled 'Dr APJ Abdul Kalam reading katta.' is also initiated with an executive body of principal as a president, 06 student members, 02 professor members and librarian as a secretary. This club carries out activities like exhibition of books, displaying of noble thoughts and also newly subscribed books and journal, group discussion etc.
In order to improve this facility, manual feedback of the students is also taken.
4. Evidence of Success
All the students who come at Midnight Study Room are instructed to write their names and put their signatures on
library register. We have a register of students' name, time of arrival and signature. Study materials like reference books, books for competitive exams, monthly journals are made available to the students from 6 pm to 12 am. This year three students from college Ku.Pranali wadhi, Shubham Gurde and Mr. Jitendra Mandape under the Earn and Learn scheme and one security guard appointed for keeping watch on the students. These students work in shift of three hours, 6 pm to 9 pm and 9 pm to 12 pm. In the recent years beneficiary students of this practice are selected on various posts. As far as University results are concerned the users of this practice make the place in merit list of the Gondwana University. In this year Ashwini.V.Narnaware (M.Lib), Harsha Walthare (M.Sc. Chemistry), Pallavi Parshuramkar(B.Lib), Manisha Wandhare (M.A. History), Rina Bawankar (M.A. Geography) are the beneficiary of this scheme who has topped in their respective subject. Besides regular study, students of this scheme prepare IIT- JAM, JEE, NEET, MPSC, CSIR-NET, SLET and other competitive exams.
5. Problems Encountered and Resources Required
Due to load shedding, students complained us about failure of power supply during their study time. Hence mini generator is instantly set up for them. To sort out the problem solar panel of around 33 KW amounting approximately 18 lakhs is going to be installed in new building. Girl safety is another issue. Girls can not avail this practice to then fullest as they have to return to their hostels or homes before dark. Moreover some students willing to avail the benefit remain deprived of this practice because of being commuters.
6. Notes
Every year Department of library of N H College displays a notice on the notice board about the commencement of
Midnight Study Room from 6 pm to 12 am at library hall. Interested students contact the Librarian and start coming for reading from given date. Students' complaints during the use of the reading room are solved on priority basis. Suggestion box is also set up for the students to place their grievances from time to time.
Reading room till midnight

Reading room till midnight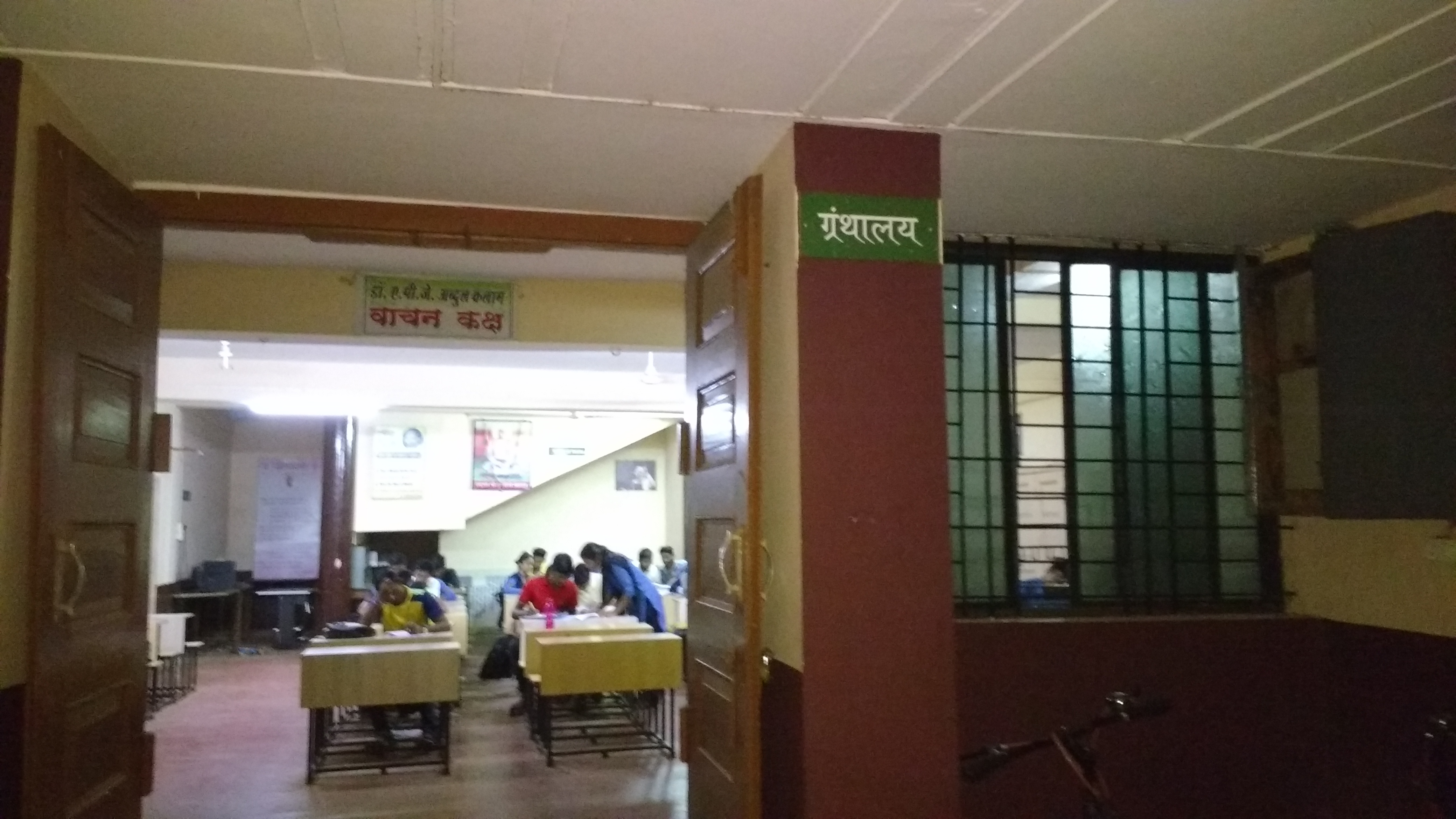 Title of the Practice : Assistance to RTO department in RTO Camp

.
1. Objectives
To shoulder social responsibility .
To provide facility to the people of rural area to avoid inconvenience in hectic license issuing process.
To provide necessary assistant to RTO department to carry out RTO camp.
2. The Context
As per the government of Maharashtra directed to organize RTO camp at taluka place and avoid inconvenience to the people of remote area, institution planned to provide assistance to RTO department in organizing RTO camp in the institutional campus.
3. The Practice
As the head office of RTO is at Chandrapur which is 130 km away from Bramhapuri. It is inconvenient for the People of this area to issue driving license from Chandrapur. In this quest institution approached to the RTO department and as per the vision and mission of the institution "Step in for knowledge, reach out for service to mankind" on which college run its activity, take an initiative to provide assistance to the RTO department to organize RTO camp in the college premises. College has started this activity during the academic session 2018-19. RTO camp was organized at every 3 rd Saturday of the month. It was very good experience to share college infrastructure including computer laboratory and other facilities for the noble cause of providing driving license to the community. Institution has provide 15 computers with high speed internet facility through LAN. 3 staff members of the computer department and 2 from NSS and NCC unit are appointed during the camp to assist other staff members of the RTO department. Appointed staff members assist in verification process of documents required for driving license, keep record of number of license issued and submit it to RTO department. People of the local community and students of the college have been greatly benefited by this camp. In the academic session 2018-19 in collaboration with traffic department Bramhapuri several traffic awareness program were organized for the students.
4. Evidence of Success
Sign of satisfaction about driving license issued and internal feeling of competent among people is an obvious
evidence of success which reflect while interacting with these people. Every 3 rd Saturday of the month number of needy people from nearby area get benefited through this activity. 245 applicants have been benefited and issued driving license during this year. Record of these issued driving license have been maintained.
5. Problems Encountered and Resource Required
System get sometime failure due to power-cut during online examination. Hence generator is instantly set up to resolve this problem. Institution is now going to planned to install solar panel for continuous power supply. As RTO camp is organized only on 3 rd Saturday of every month, people has to wait long for next date of RTO camp. Institution has requested to RTO department to conduct camp on every Saturday so that more people will get benefit of weakly RTO camp. Although we have high internet speed, sometime online examination get suffer due to fluctuation in internet speed, we regularly communicate with internet service provider to resolve this issue.
RTO Camp: Employee of RTO Dep
artment, Examine for Licence, Teacher & Students

RTO Camp: Employee of RTO Department, Examinee for Licence, Teacher & Students